A NATURALLY COLORED DRINKING STRAW!
Rice straws are created from rice flour and thus are 100% highly biodegradable. They come in a variety of colors. This option protects our environment while still providing a unique and entertaining experience.
The rice straw is firm and for one-time usage only. These natural straws are produced under controlled conditions and are not chemically treated. They are ideal for any cold (30-40 minutes) or hot (10 minutes) drinks and will not dissolve in the glass. Rice straws come in a variety of colors to match any drink and do not change the flavor.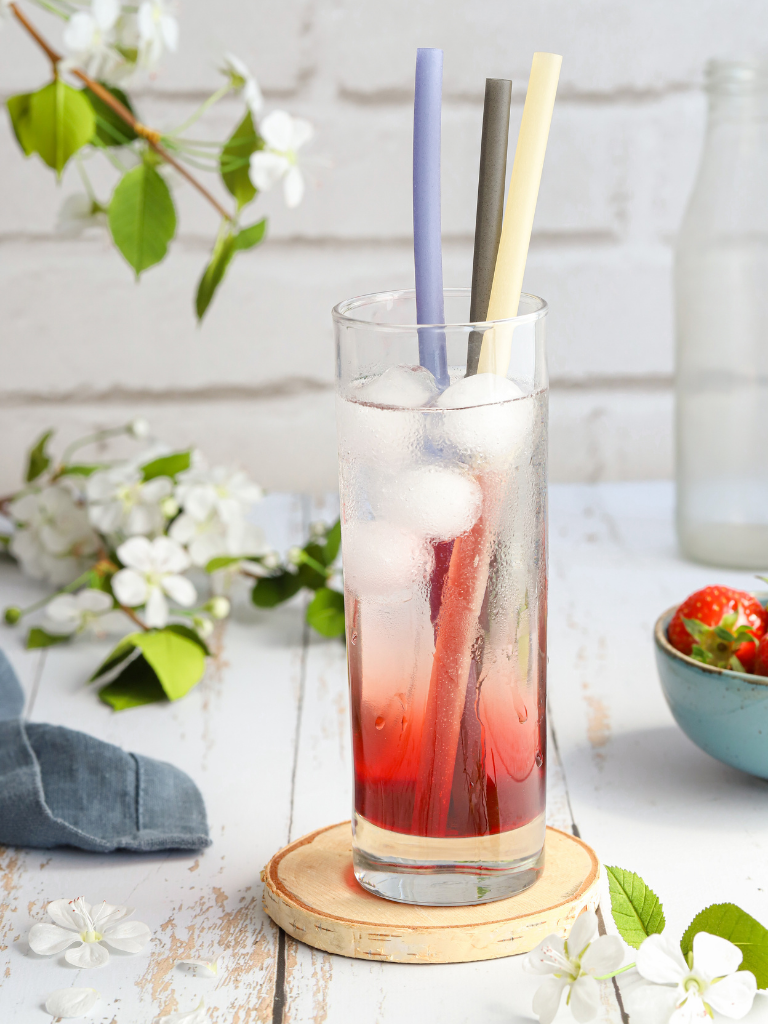 5000+ professional clients who trust us and among them
Specialist in Plastic-free straws and conformity product
We propose the quality at the best price.
We aim to respond to your straws's order within 24h and delivery by express.
100% Natural
Rice straw is made of flour and grains. Nothing more. It might be edible but it doesn't taste good.
Zero waste
Rice straw is a zero waste drinking straw. After use, the straw will decompose very quickly.
Compostable
After use, our advice is to throw the straw in your compost, it will decompose naturally in a few weeks.
Original
Rice stem straw is fun and playful. It is colorful and brings original nature touche to your drink.
• Straws made from an abundant resource: rice flour
• Length: 14 or 21 cm 
• Standard dimension : 6, 8 mm 
• Special bubble tea format : 12mm,and individual paper packaging

• Several colors available: we offer white, black, blue. Other colors on request.
• Neutral taste
• Storage: keep them in a cool, dry place away from direct sunlight. The shelf life of the product is 3 years.
• Straws can be composted at home in 90 days
• Delivery in France and Europe
• Certification: straws certified for food contact and plastic-free (AGEC law)
Rice straws are intended for one-time usage only. There are three sizes available (6mm, 8mm, and 12mm) to accommodate all cold drinks such as sodas, cocktails, and smoothies.
Despite the fact that they are formed from edible components, these rice straws are not consumed (except by rice lovers).
After 1 hour in a drink, the rice straw becomes more delicate and may fracture.
In a hot beverage, these straws will not last as long (10 minutes before they soften).
Rice straws can be stored in their packaging for up to 18 months, ideally protected from humidity and heat.
All of our straws are approved for food contact and European standards.
We have the ideal answer for you, whether you're a caterer or an in-store retailer: a personalized box of 10, 50, or 100 colored rice straws.
Rice straws are flour-based. They decompose in a matter of days.
Rice straws are not chemically treated and are completely natural.
Rice drinking straws are colored naturally. They provide a unique flavor to your beverages.
Rice straw causes no trash. The straw, which is made of flour, will degrade on its own.
To order more than 5 000 rice straws at the best market price:
Why should I choose rice straw
?
RICE STRAW IS BIODEGRADABLE AND COMPOSTABLE
This straw is 100% biodegradable and compostable in any compost bin in 90 days because it is made of rice paste, a 100% natural product.
We have white straws with natural rice color, black straws with vegetable charcoal, and blue straws with natural plant color. As a result, these rice straws are natural and do not harm the environment.
THE RICE STRAW IS ORIGINAL
Although it is not advisable to consume them, these rice straws offer an interesting and fascinating experience. They will bring a touch of color and fun to your beverages. Their cut is flawless, with no chips. They have a unique tale to tell because of their fair trade production technique and all-natural materials (rice, sesame, charcoal, etc.).
You haven't decided what you'll use to replace your plastic straw by January 1, 2020? Well, rice straws can be an excellent and cheap single-use option. This rice straw is standard in size and color, and it will fit in with any drink (sodas, cocktails, smoothies…).
RICE STRAW IS A EXCELLENT COLOR ALTERNATIVE
We provide customized and colored straws based on your choices. White (rice), green (spinach), purple (beetroot), orange (carrot), and grey (sesame) straws are created from natural elements. Each color straw has a unique story to tell!
Join Us

on Our Social Netwoks!