French #  n°1 manufacturer, wholesaler, and supplier who specialized in drinking straws. We propose a range of disposable and reusable straws for Bubble Tea (XXL diameter straw with ⌀ 10, 11 and 12 mm) at the sharpest prices on the market for professionals. Delivery throughout France and Europe. 

Paper Bubble Tea straw 12mm
– The paper straws are disposable
– 21 cm x ⌀ 12 mm
– Beveled cut
– Individually wrapped in paper
–

Customized printing possible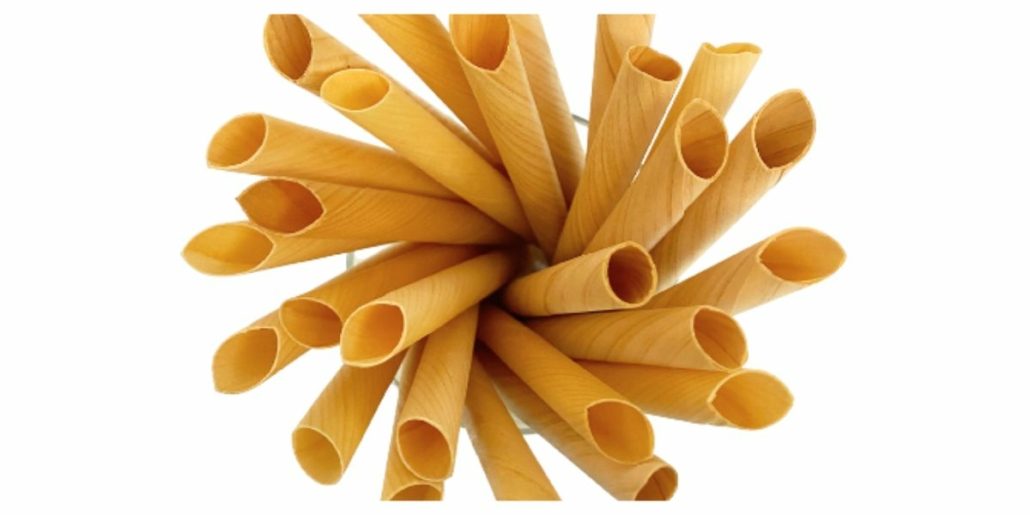 Forest Straw for Bubble Tea 12mm
– Disposable straw for Bubble Tea
– 21 cm x ⌀ 12 mm
– Bevel cut
– Resistant made of wood slices
– Per box of 150 straws

Rice Bubble Tea straw 12mm
– The rice straw is disposable
– 21 cm x ⌀ 12 mm
– Beveled cut
– Individually wrapped in paper
–

Per box of 50 straws
Bamboo Bubble Tea straw 12mm
– Bamboo straw is reusable
– 20 cm x ⌀ 10- 12 mm
– Beveled or straight cutting
– In bulk packaging
– Customization from 50 straws

Stainless Steel Bubble Tea straw 12mm
– Stainless steel straw is reusable
– 21,5 cm x ⌀ 12 mm
– Beveled or straight cutting
– In bulk packaging
– Customization from 50 straws
The 12 mm diameter beveled paper straw and customizable
The XXL (⌀12 mm) diameter beveled paper straw is perfectly fit for drinking bubble tea or other thick drinks. This single-use straw is made of biodegradable paper. The beveled cut makes it easy to open the lids and sealing films on the cups. 
The jumbo paper straw is individually wrapped in paper. After use, we recommend disposing of the straw in the appropriate composting area.
Customization with your own logo or message from 100,000 straws. This 21 cm x 12 mm paper straw is an ideal item if you are looking for a plastic-free straw for your bubble tea drinks.
The disposable rice straw Bubble Tea XXL diameter 12 mm
The special Bubble Tea XXL rice straw of 12 mm diameter is disposable and beveled. Made with vegetable flour, the rice straw is perfect to consume your bubble tea with tapioca balls.
This straw has a large diameter that allows the tapioca balls to pass through. It is also suitable for cocktails, smoothies, granitas, and milkshakes.
This straw's color is natural white, the cut is beveled to break the lid of the cups or the sealing film. It is individually wrapped in paper.
The rice straw can be compostable at home in a few days.
The 12 mm diameter beveled Forest Straw and customizable
Forest Straw is made from slices of wood. They are produced in different diameters and in particular in 12 mm for bubble tea. They are an ecological and aesthetic option to enjoy your favorite drink. They thus offer a beautiful natural and organic appearance that blends perfectly with the colorful and vibrant aesthetic of bubble teas.
These forest straws are sturdy enough to support and pass tapioca pearls and other popular toppings used in bubble teas.
By choosing these wood-sliced straws, you can enjoy your favorite bubble tea while helping to reduce plastic waste and take a more sustainable approach.
The reusable and custom-tailored bamboo straw with 12 mm diameter
The bamboo straw is 100% natural and reusable. It is made from the world's most sustainable and renewable plant: bamboo. This straw is one of the best sustainable and ecological alternatives to single-use plastic drinking straws. 
It remains the primitive color of bamboo wood, and its jumbo diameter of 10-14 mm XXL is adapted for Bubble tea to pass the tapioca bills.
Individual paper packaging possible, beveled cut and personalization with engraving (from 50 straws) on request.
The reusable 12 mm stainless steel bubble tea straw
Available in a jumbo XXL bubble tea straw (21.5 cm x 12 mm), the reusable stainless steel straw is absolutely an alternative to plastic straws. It is very strong, made of stainless steel and can be used as often as you like. 
There is no metallic taste when drinking. It can be cleaned either by hand with a brush or directly in the dishwasher. 
The 12 mm jumbo diameter is perfectly suited for drinking bubble tea to pass tapioca notes.
Individual paper packaging is available, with a beveled cut to break through the lid. Moreover, personalization with an engraving of your choice (logo or message) from 50 straws on request.
XXL ecological and customizable Bubble Tea straw
Customizable and disposable Bubble Tea paper straws 10, 11 or 12 mm
Special disposable paper Bubble Tea straws ⌀12 mm with jumbo diameter can be printed with your logo. We cater to bespoke requests to bring your customers the best experience.
Reusable bamboo straws ⌀10-12 mm eco-friendly personalized
We also offer the personalization of our XXL bamboo straws by engraving your logo or message of choice on the straw.
Reusable stainless steel straws ⌀12 mm eco-friendly personalized
The jumbo-diameter stainless steel straws can be engraved with your logo. These customized reusable Bubble tea straws can be sold in your shop or given to your customers. 
500 + customization projects
We propose the quality at the best price
We aim to respond to your straws' order within 24h and delivery by express
 Delivery is available in France, in Europe and also Worldwide
Buy now

Bubble Tea drinking straws
Benefit from the best quality/price on the market for your Bubble tea straws XXL diameter 12 mm. Response guaranteed in less than 24 hours.
FAQ

Frequently Asked Questions
How much does a straw cost for Bubble Tea?
The majority of Bubble Tea shops use paper straw because it is the best known and cheapest solution on the market. Even if it is not the best option in terms of quality and experience. A disposable Bubble Tea straw that complies with the regulations can cost from 3 to 10cts / straw for a professional.
Reusable straws are more expensive with a price of around 15 to 90cts per straw.
What are the materials of bubble tea straw?
The typical straw for Bubble Tea is disposable paper, stainless steel or bamboo. However, there are different straw options, such as the glass Bubble Tea straw and the silicone one. Compared to the materials used, silicone and glass are in low demand. Finally, here is why we do not sell PLA, fiber and bagasse straws.
Is it useful to have a straw for Bubble Tea?
Drinking from a straw is often a habit, especially when buying a drink to take away. Although it is possible to drink straight from the glass or cup, drinking with a straw makes it easier to drink while on the move. In Bubble tea, the use of a straw is even more interesting because there are tapioca balls at the bottom of the cup. The straw allows you to eat them while enjoying your drink. This is why the use of straw is quite obvious, even essential, for the consumption of this type of drink.
Is it useful to have a straw for Bubble Tea?
The straw for bubble tea is easy to use. Those that are disposable are used only once. Just put the straw in the cup. There may be a lid to be pierced with a quick blow thanks to the tip of the beveled straw. After using the straw, you can throw it in the appropriate compost. For reusable straws, simply clean them in the dishwasher or with a bottle brush.
Caution! ! Bubble Tea straws that we do NOT offer
The "PLA" or "Bioplastic" straw diameter ⌀12 mm
 ❌
The transparent PLA straw, with a plastic texture, 21 cm long exists with an XXL diameter (12 mm) to sip your Bubble Tea. These jumbo straws are called "biodegradable" because they are made from renewable resources such as corn or potato starch. However, "PLA" is a plastic (factory compostable only) and is prohibited by the current AGEC law. PLA takes as long to decompose as plastic, i.e. about 500 years, while leaving plastic residues. 
Straw made from " bamboo fibers " (different from bamboo stalk)  ❌
So-called "bamboo fiber" straw with a plastic texture (not unprocessed bamboo stalk straw) with a diameter of 12 mm is sometimes found on the European market. It is natural with a beveled cut.  Although perfect for bubble tea, this disposable straw is currently made of Polybutylene succinate (PBS) binder, which is a biodegradable plastic that does not comply with the current AGEC law. We recommend that you check the composition and certificates of the products with your suppliers (in particular, by requesting pyrolysis from an approved laboratory).
"Sugarcane Bagasse" straw ⌀12 mm in diameter ❌
The straw made of "bagasse" or "sugar cane", with a diameter of 12 mm, and a length of 21 cm, is also compatible with drinking Bubble Tea. It has a natural color with a plastic texture and is also available in a beveled version to break the lid. The straw is made from bagasse or sugar cane fiber and often a PBS or plastic (PLA) binder. If the straw looks like plastic (elastic/plastic texture), it is very likely that it is made from a chemically transformed polymer binder called PBS (biodegradable plastic) and banned by the AGEC law in force since 1 January 2021 (except for medical use). We recommend that you check with your suppliers by asking for pyrolysis, for example, this document will reveal whether the presence of a chemically transformed polymer (= plastic) is prohibited by the AGEC  law.
Join Us

on Our Social Netwoks!