A REUSABLE AND TRANSPARENT STRAW!
A glass straw is an original and very pleasant drinking accessory. Its transparency allows us to see the content of the drink consumed during its use. It is a solid straw, reusable and without plastic. It will surprise all your customers and guests who are still used to drinking with plastic straws.
Take care of it and you can use it as long as any other glass straw. The glass straw can easily be washed in the dishwasher. We recommend that you place it in an individual tray away from utensils that can break it.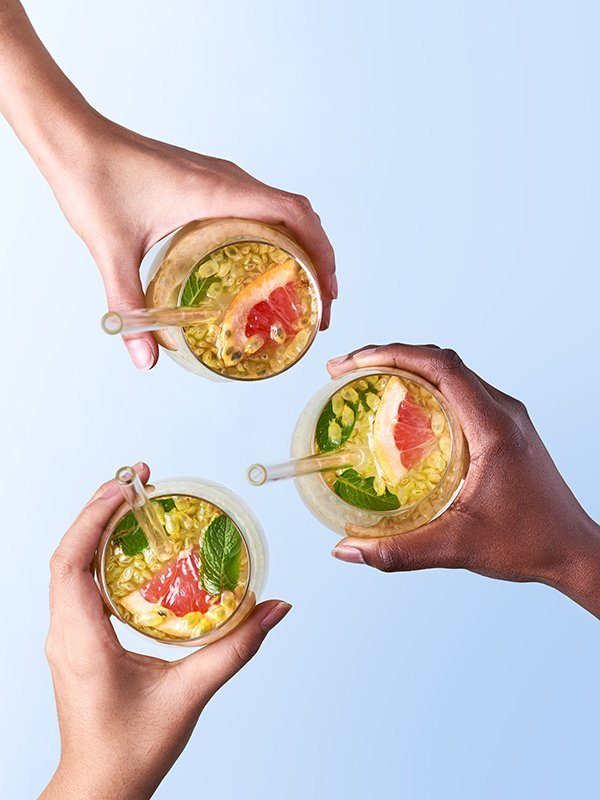 5000+ professional clients who trust us and among them
Specialist in Plastic-free straws and conformity product
We propose the quality at the best price.
We aim to respond to your straws's order within 24h and delivery by express.
European
Our local and reusable Glass straw is made in Europe.
Zero Waste
The glass straw can be reused many times and is a very high-quality product.
Recyclable
You can recycle the glass straw by throwing it in the appropriate bin.
Customizable
The glass straw can be personalized by color and laser engraving. A unique accessory to offer to your customers or employees.
• Composition : Clear and solid straight glass made of Sodocalcite (recyclable)
• Dimension : 15, 20, 23 or 30 cm 
• Diameter : x 7 mm 
Available in French version 20 cm x 6 mm (inside)
• Suitable for all kinds of drinks (fizzy, cold and hot)
• Clean: Easy to clean (by hand or machine). Washing brush on request.
• Instructions: long reuse, dishwasher safe, hand washable. Not recommended for children under 3 years old without adults.
•End-of-life: Recyclable
•The straw does not bother the taste of your drink
• Certification : The anti-waste law for a circular economy (AGEC)  law and straws certified as food contact and plastic-free
• Origin: Europe and French also possible
Even though the glass straw is strong, we recommend that you use it carefully as it may break. The Glass straw will resist better on parquet than on concrete. But the feedback from customers on the quality of the glass is excellent. 
These straws are still glass and, like your water glasses, should be handled with care. We advise not to leave a child under the age of 5 alone with a glass straw, because if it breaks, they could get hurt. The more you take care of this straw, the more they will remain intact and reusable for an unlimited period. 
We all know how to care for and clean glass, however, dealing with a glass straw might be a question for many of us. But don't worry, it's not that difficult to maintain this straw. In fact, it is almost similar to any glass in your home: 
 Rinse it with water, pass the special brush and let it air dry. 
 Put it in the dishwasher. The only precaution to take is to place your straws in a place where no other utensils can shock them. Simply place and store your straws in your dishwasher with care.
Glass straws can be recycled in the appropriate garbage can.
The glass straw is food safe. Do not bite it!
The glass straws can be personalized by engraving.
The glass straws are reusable and a zero-waste initiative. 
Buy now

glass drinking straws
To order more than 10,000 glass straws at the best market price; for professionals who want to know more about our entire catalog:
Why should I choose glass straws
?
THE GLASS STRAW IS REUSABLE
 Made without plastic, the glass drinking straw is reusable, hygienic, recyclable and totally neutral. Its transparency adds a real plus to this straw if you are looking for a unique, surprising and reusable straw. 
It is easily machine washable and can be used as many times as you like. This straw is suitable for professionals who want to buy a reusable, transparent and chic straw. 
THE GLASS STRAW IS STRONG AND THINK
The glass straw is designed and transparent. Made of one of the best resistant glasses. Although it is not unbreakable, you will be able to stir the contents of your glass without worrying and enjoy your drink. For those who are used to biting their straws, we advise you to leave this habit behind as you risk hurting your teeth.
The glass straw is thick and provides a unique and safe mouth feel!
TRANSPARENT AND SURPRISING GLASS STRAW
That's a little secret to whisper with you. This glass straw will surprise all your customers because it is still unknown to the public. It is an unfamiliar accessory that allows you to see through the straw the content of the drink. Moreover, it offers a real sensation of freshness to your cocktail, smoothie or other drink and looks great when the drink passes through the transparent straw.
DIFFERENCE BETWEEN SODOCALCITE AND BOROSILICATE GLASS
The vast majority of your glass bottles, food jars or traditional glasses are made of Sodocalcite glass. Borosilicate glass is more sensitive and therefore more fragile.
But the big difference between Sodocalcite glass and Borosilicate glass straws is in their recycling method. Furthermore, the straws in Sodocaclcite glass can be thrown away in traditional glass garbage cans.  If you choose Borosilicate glass straws, they can not be thrown away and recycled at the risk of disrupting the recycling of traditional glass. 
Join Us

on Our Social Netwoks!