AN ECO-FRIENDLY DRINKING STRAW!
Wheat Straws are 100% natural, biodegradable, eco-friendly, and home compostable. It is made from a natural, economical and sustainable resource: unprocessed and renewable wheat stalks. Rinsed and cleaned. Don't worry! There is no after-taste to bother your emotion. 
Although made from wheat stalks, the straw is strong and a perfect match for cocktails, milk, juices, coffee, cappuccino, etc., whether in cold, hot, or fizzy drinks, moreover, they never get soggy. It's a drinking straw eco-friendly to our environment to please all your guests and customers.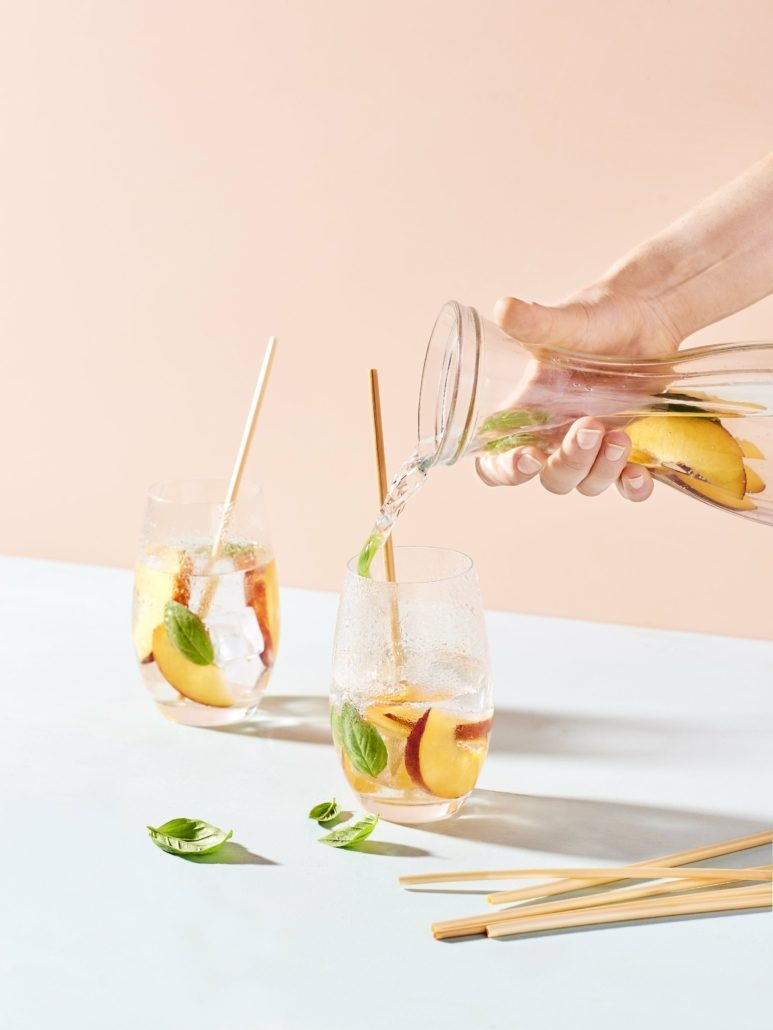 5000+ professional clients who trust us and among them
Specialist in Plastic-free straws and conformity product
We propose the quality at the best price.
We aim to respond to your straws's order within 24h and delivery by express.
100% Natural
Feel nature's touch! The Wheat Straws are made only from the stem of a wheat plant recovered from the fields and sterilized.
Zero waste
Traditionally, farmers collect the head of the plant for food, and the stem is leftover as a waste. However, we reclaim the stems from the field, cut to drinking straw size, and then meticulously sterilized them.
Home compostable
After use, we advise you to throw the straw in your compost or pots, it will decompose naturally in a few weeks.
Organic
Treat yourself to nature's tastes! The wheat straw is fun to use, however, it remains fragile, and it should not be pinched or squeezed.
• Composition: 100 % Natural wheat stems (Renewable raw material)
• Process of production: Sorted – Washed – Disinfected – Packed
• Wheat straw is made from hand-cut wheat stalks, sorted, washed, disinfected, and packed.
• Size : 21,5 et 14,5 cm 
• Variable diameter: wheat is natural, diameter from straw to straw may vary
• Use: adapted to children and for cold, hot, fizzy drinks such as juice, tea, coffee, and cocktails.
• End of life: naturally decomposes quickly and is compostable.
• Allergens : gluten-free  (tolerance 0,25ppm)
• Neutral taste: SGS certification (laboratory result = after 2h, the water at 40 °C has become yellow, with a strong grassy taste).
• Certification: the anti-waste law for a circular economy (AGEC) EU law: Straws certified as food contact and plastic-free
Our Environmentally friendly wheat straws respect hygiene processes, those drinking straws are rinsed to remove dirt and soaked in sterile water before being air-dried, checked, and packed.
Wheat straw is original, has no after-taste and it will surprise your customers. This straw is unique, none of it will be really identical, since from one wheat stem to another is different.
Best date before 1 year and avoid putting under sun exposure and humidity.
Sip your drinks from eco-friendly custom straws!
We offer you the best option for your wheat straws, customized Logos for Restaurants, Professional Catering events, or a Retailer store, we have the perfect solution for you.
We can also  propose your costume quantity according to your order:
Box of 500 / 1000 straws or 50 / 100 straws.
Wheat straw is 100% compostable and it can decompose naturally and quickly.
It is made from wheat stalks only, it is the most natural and economical alternative.
Wheat straws are a great way to differentiate yourself from an all-natural straw to make your customers smile.
Wheat Straw is the stem of a wheat plant, normally the stem is leftover. However, we collected and cut them to drinking straw size. 
Buy now

wheat drinking straws
To order more than 10,000 wheat natural straws at the best market price; for professionals who want to know more about our entire catalog:
Why choose the wheat natural drinking straws?
A HISTORICAL NATURAL STRAW
Historically, the first rye straws were made by the Sumerians for drinking their beer in 3100 BC. The natural rye straw takes us back to the very first uses of straw.
Today we bring you a cleaner and no after-taste version of straw made from natural and real straw. It is completely biodegradable in a short time. The wheat plant is harvested once it has reached maturity. The golden stalks are cut and processed to make a drinking straw.
WHEAT STRAW IS BIODEGRADABLE
Without toxins, wheat straws will not affect the planet. Indeed, this ecological disposable straw is made from natural wheat stalk. Since plastic made from wheat straws is very durable and heat-resistant, drinking straws made from wheat stems, are an ideal zero-waste option that does not harm the Earth and ocean, and production emissions are nearly zero. Wheat being a renewable resource, wheat straw is a 100% responsible and sustainable alternative that does not pollute. It is plastic-free and biodegrades very quickly in the soil.
Wheat straws are made by using renewable sources, they fully degrade naturally even when thrown in the backyard. It does not pollute nature in any way since wheat straw is rapidly biodegradable (depending on the context, the environment, humidity and rain, do not throw it anywhere) and compostable. As it is made of wheat stalk, once in the ground it will be attacked by fungi and bacteria which use it as an energy source. They are suitable for restaurants and bars, for big events, and for home use as well, they are stable and environmentally friendly.
NATURAL WHEAT STRAW IS ORIGINAL
It is also a straw that adapts to all your drinks. Unlike other straws, it can be used for cold, fizzy or hot drinks (coffee, hot chocolate…). The drinking straw can also avoid direct contact with your teeth and therefore damage them. 
It is very original and will brighten up your party and events by bringing a real original and natural touch
NATURAL WHEAT STRAWS KEEP YOUR CLIENT'S SMILE
A reusable straw seems like such a simple thing that it's hard to imagine that using one can really make a difference. But when you consider how many millions of plastic straws have been left in landfills, it's easy to see why many people are looking for an alternative. Do not become the outcast in this ecological transition,  Lespailles.com, we help you find out the best drinking straw solution! We propose the largest single-use, edible and reusable straws at the sharpest price on the market to assist your Corporate social responsibility(CSR).
We are here to accompany your green revolution!
Join Us

on Our Social Netwoks!