PLA straw (bio-plastic) ❌
"PLA" straws are biodegradable and compostable plastic created from 69% bio-sourced components that can only be composted by the manufacturer. They are produced using renewable resources, such as non-genetically modified maize starch or sugar. This "solution," however, is not so friendly to the environment (see box in red below)
There are two different types of straws:
     – 40° resistant and sturdy PLA straws for cold and/or carbonated liquids like cocktails, sodas, and smoothies…
     – 95° resistant PLA straws that are appropriate for hot liquids such as hot chocolate and tea…
The PLA straw is a type of plastic straw that is illegal under current AGEC regulations. This sort of straw is only permitted in medical settings.
IMPORTANT INFORMATION  ❌ 
Plastic is used to make "PLA" and oxo-biodegradable straws. They are manufactured from renewable materials like corn starch or potato starch. These straws have been chemically altered and are thus plastic (up to 30%). Because these straws are not biodegradable at home, they do not fulfill the rules (they are reserved for the medical field).
PLA takes about 500 years to breakdown in our environment, despite being "biodegradable," leaving plastic residues. Commercial composting facilities for PLA straws are very challenging to set up due to their high composting needs (high temperature for an extended length of time).
Finally, it is hard to distinguish a plastic straw from a PLA straw visually, which confuses the buyer. It also implies that PLA may wind up in the same landfill as traditional plastic garbage. Furthermore, because it is not recyclable, the standard recycling process is polluted, lowering the quality of recycled plastics.
As a result, these PLA straws are not ecologically friendly and are prohibited under the AGEC rule, which went into effect on January 1, 2021, since they have a harmful impact on the environment.
Drinking-straw.com does not sell these types of straws since they do not fall within the category of ecological and environmental preservation. Many ecological options are available at very little cost: please contact us.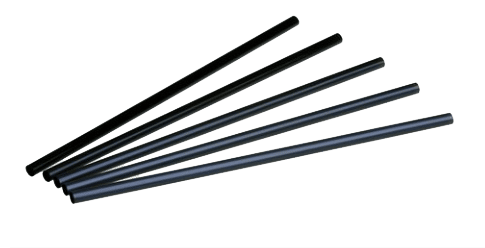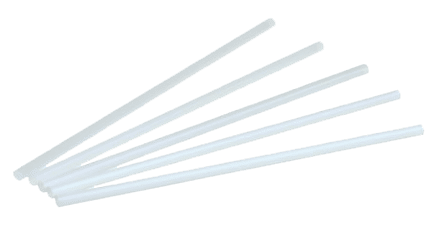 – Possible colors:

transparent,

black, white, and green (light and dark) 
 – Other colors: customization (color / logo) available from 1 million units on request.
 – The straws, made of PLA, a bio-plastic, only degrade in the factory after nearly 24 months of usage (VS 500 years for plastic) 
 – Shelf life in a dry place: 16 months.
Vegetable corn starch straws come in a variety of sizes:
– Straight: 14cmx3mm, 13.5cmx7.0mm black, 15cmx8.0mm black, 19.7cmx6.0mm transparent, 16cmx7.0mm black, 20cmx5.0mm green, 21cmx7.0mm white or black, 21cmx6.0mm white or black
– Flexible bendy : 20cmx6,0mm white or black, 21cmx6,0mm white , 21cmx6,0mm white or black,  26cmx6,0mm green, 24cmx5,0mm light or dark green
– Straight spoon option (for granita in particular): 25cmx8,0mm black or white
– Telescopic on request: 21cm x 6 mm black 
– For hot drinks (95°): 21 or 24cmx7,0mm 
PLA straw is eco-friendly and biodegradable
Corn starch straw is an environmentally friendly medicinal substitute. They may be composted in factories. Polylactic acid (PLA) is a plastic that is currently regulated under AGEC. This sort of straw is only used in the medical field.
In reality, bio-sourced PLA is manufactured from renewable resources such as corn, sugar, or potato starch. This substance has undergone a chemical transformation.
If you operate a restaurant, there are more environmentally friendly and cheap alternatives for you rather than PLA straws: wheat, reed, apple fibers, and rice straws manufactured from natural plant fibers. In order to protect our world, we advocate replacing PLA straws with other more ecologically friendly options.
This is an option for medical professionals seeking low-cost, environmentally friendly straws. This straw is available for as little as 0.01€ per unit (for quantities under 1 million).
We have a large selection of straws to meet your needs, ranging from small straws for cocktails to 25cm straws for smoothies.
Contact us if you want to buy PLA straws at a reasonable cost and with a large selection.
Personnalisable PLA straw
For orders of 1 million or more, we offer to personalize your PLA straws:
– Special color (red, blue, orange…)
– Message printing
– Logo printing
– Customized packaging
ODER ALTERNATIVES TO PLA STRAW (medical)
Would you like more information on alternatives to PLA straws? Contact us below. We'll get back to you within 24 hours!