How to check the conformity of your drinking straws?
The AGEC legislation, which rules waste management and the circular economy, went into effect in February 2020. Since January 1, 2021, single-use plastic straws are prohibited (except in the medical field). In terms of the applicable law, we've seen that the market is fairly confused between straws that are approved globally and those that aren't in the European Union. This page seeks to provide you with the necessary information to better understand the prohibition and provide you with some guidelines for determining whether or not a "plastic-free" straw is compliant.
How can you know if a "plastic-free" drinking straw is conformant?
Food contact materials conformity
First and foremost, we advise you to double-check the straws' food contact conformance. It concerns the 1935/2004 and 2023/2006 rules, as well as the implementation of Fraud Control (DGCCRF). These are accredited labs that investigate global and particular migrations on straws (for example, heavy metals, Bisphenol A, fats, acids…). These tests ensure that the product does not threaten the customer during usage. Particularly when in touch with your beverages.
Manufacture's Compliance
It is vital to evaluate if the factory conforms to the different EU and international requirements for manufacturing, packaging, employee treatment, and management. To verify and grade the factory, many legitimate and recognized European marks and organizations can be employed.
AGEC anti-plastic law's Compliance 
Regulation (EC) No. 1907/2006 defines "plastic" as any "chemically converted polymer." In other words, it is not a naturally occurring polymer (which has not been chemically modified). A chemical change is referred known as polymerization. As a result, any single-use straw produced entirely or partially of chemically modified bio-sourced, biodegradable, or compostable polymers are forbidden under current AGEC legislation (except for medical use). PLA, PBS, PHA, PP, PET, PA, PVC, PT, PBAT, PCL, and other (thermo)plastics are examples.
The environmental code (Art. D. 541-332) is clearly concerned with usage: the prohibition on making single-use plastic items available, specified in points 1° and 2° of Article L. 541-15-10, "also applies to plastic products that have durability, resistance, and strength performances equal to those of metal products." It will not be possible to introduce it for "reusable" purposes.
To double-check your straws, get an ingredient list from your suppliers. In addition, if the straw sample you got has a plastic texture, we recommend that you request a pyrolysis test. This test is done by a qualified laboratory and permits the materials' composition to be verified. The existence of "chemically altered polymers" (= plastic) is revealed by this pyrolysis. Be aware that a document attesting to the absence of five common plastics (PVC, PE, PP, PET, PS, and occasionally PLA) does not allow you to prove the absence of plastic (defined by the law). Because there are several plastics to choose from.
Which straws are legally acceptable?
We agree that determining what is or is not compliant can be difficult at times. Single-use straws made of PLA or other bioplastics, for example, are not compliant (except for medical use). Be wary of marketing terms like "corn," "starch," "fiber," "bio," "bagasse," and "vegetable." Also, just because a product has a natural hue or a lovely name does not guarantee that it is devoid of plastic. The texture is still the warning sign. Indeed, if the straw is soft, like plastic, we urge that you request and carefully examine the certification documentation to ensure compliance.
We've created a tiny infographic to show you our alternatives to plastic straws:
Are reusable plastic straws permitted?
Reusable plastic straws are excluded from the purview of the AGEC law. However, keep in mind the concept of "reusable." It is not enough to simply write "reusable" on the package of a plastic straw to exclude it from the legislation. This is a form of greenwashing!
The environmental code (Art. D. 541-332) clearly considers use: "The prohibition on making available single-use plastic products mentioned in 1° and 2° of the III of the article L. 541-15-10 also applies to plastic products that present durability, resistance, and solidity comparable to those of single-use products."
As a result, it would be impossible to commercialize (except in the medical area) a straw made of PET, PVC, PLA, or any bioplastic that performs similarly to a single-use plastic straw.
There are, however, certain plastic straws that are legally reusable. The most well-known example is the silicone straw (sterilization possible with this type of material). Its performance and durability characteristics are considerably different from those of a single-use plastic straw. The silicone straw is indeed flexible, robust, and long-lasting. As a result, it can satisfy the performance expectations of the word "reusable."
TEST: Is the plastic straw recyclable under the law? Perform the following easy test: Bite, twist, and wash the straw several times! You will find out for yourself!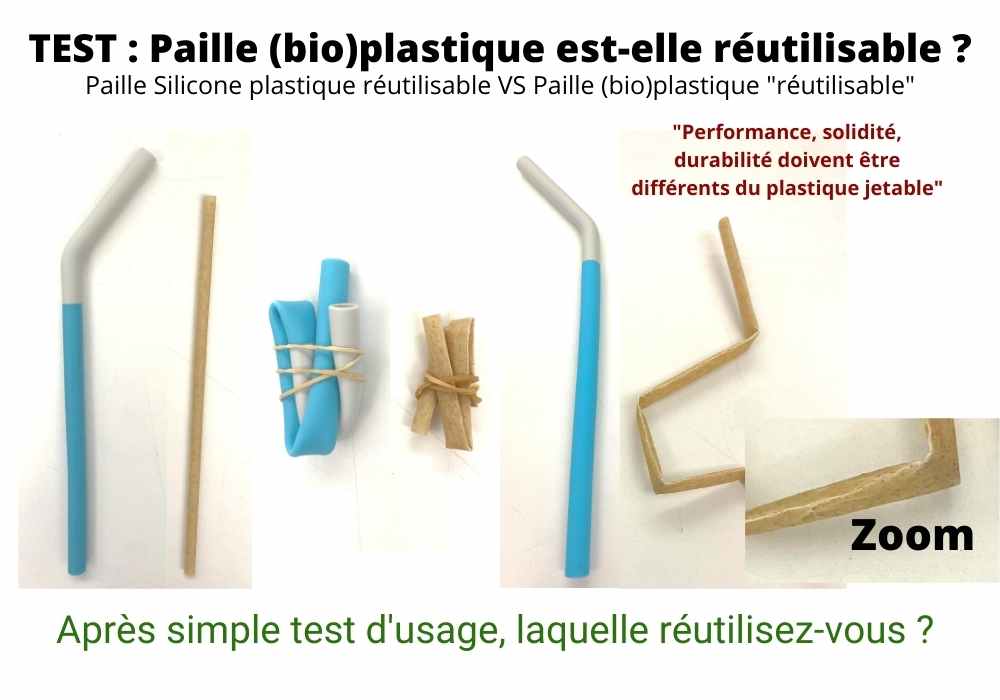 _____
Our firm Drinknig-straw.com provides you with a passionate expert on the research of these materials and their applications; our goal is to deliver you compliance solutions as well as a precise and instructive awareness. Please do not hesitate to contact us if you require assistance in making your decision.
https://drinking-straw.com/wp-content/uploads/2022/05/ConformitéPAILLES_.jpg
700
1000
Honorine
https://drinking-straw.com/wp-content/uploads/2022/05/Logo-Drinking-Straw-e1666196892227-1030x1030.jpg
Honorine
2022-05-12 22:06:43
2022-07-15 11:23:58
How to check the conformity of your drinking straws?